*e.g. if my chapters are each X length, how much room does that leave for my introduction? etc.
That isn't to say I don't have post-its stuck to my office wall. But they're stuff like
the names of my chapters
(which I can never remember) and a list of synonyms for 'represent' (symbolize, epitomize, typify, represent, illustrate, depict, portray, show...). When I'm mid-chapter the post-its multiply - during my fandom studies lit review, one said "
productive. gender. resistance.
" - but as a rule they're not always around.
Evernote has been super-useful in the last few weeks; I could probably manage with a file box and index cards, but with multiple, *koff* mobile devices and campus networks, I can add a quick comment to my perpetual cross-referenced to-do list.
I like it
. It probably stops my half of the office from turning into a Wall of Crazy. Except, instead of trying to find the killer and/or work out a conspiracy, I'm trying to figure out what I'm trying to talk about.
Also, speaking of my half of the (shared) office, this is the wall to the right of my desk. I inherited this poster from a previous PhD, but *waves* HI JONNY LEE MILLER HIIIII: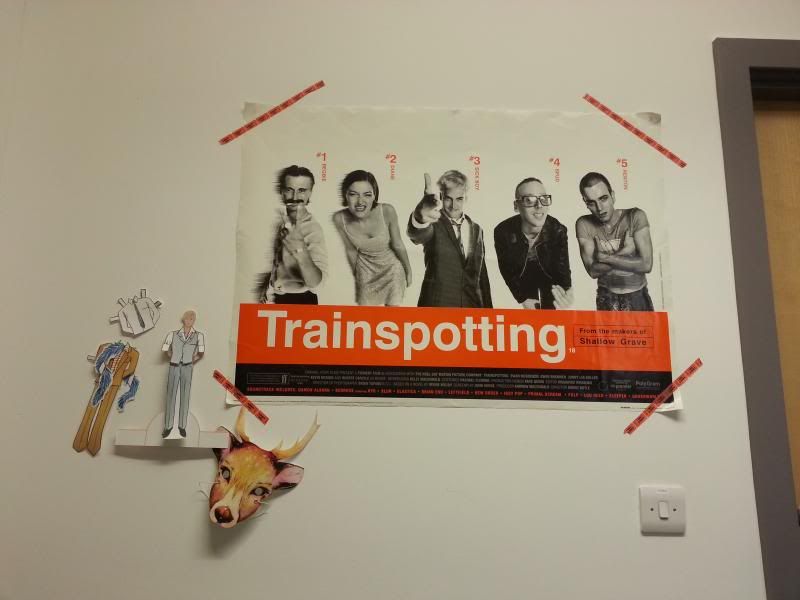 (That is a David Bowie paper doll and a cuddly bb!dire ravenstag mask, yes.)
Enough musing, back to editing. As soon as I hit post, I
will
switch on StayFocusd and MINIMIZE DISTRACTIONS. oh but I need another cup of tea.
This entry was originally posted at http://charloween.dreamwidth.org/445643.html, where there are
comments.
I don't know how I'd write this thesis without spreadsheets of wordcount totals*, without separate Evernote notes for each section containing questions and things to add, and without a zillion Word docs containing different drafts and abandoned paragraphs. Oh, and everything backed up to Dropbox. (Dropbox <3.)
Mojo
had too many recognizable cast members (who are recognizable due to a single major role), because it was like watching some surreal AU come to life.
I'm not so enthused by the play itself. It's a classic set-up: a bunch of conflicting personalities, having to work through some major event, tensions flare, yadda yadda. It's a disposable premise and the characters are equally thin. I suppose, though, that works for this kind of play, where a bunch of young actors are desperately trying to prove they can do more than play wizards for kids, or whatever.
It works well as an exercise - though Rupert Grint is playing a (slightly-dim) sidekick, and Colin Morgan a constantly hard-done-by dogsbody (sorry dears, you're typecast) - but I do wish the play itself was better. Or perhaps that the dialogue was less laced with casual homophobia? I know this run is a revival, but it's still irritating.
The actors looked like they were enjoying acting the hell out of all their shouting, fast-talking scenes, but I'd still like to see what that group of actors could do with better material. Also, Ben Whishaw has a powerful singing voice! Though, Colin Morgan yells better.
Or maybe I was missing some of the subtleties because the older-middle-aged couple sitting in front of me were
so irritating
. Protip: buy more expensive tickets and avoid having to wildly crane your neck every-effing-where and thereby annoying everyone behind you. Before the show, the guy used his iPhone to look up trivia about the show to read to the woman he was with. He took a nap partway through the first act, which was nice because there was only one head bobbing and weaving and tsking about sightlines in between me and the stage. (I had to restrain my super!steward powers - gained from working a few years of kids' shows - to stop from asking them to settle the eff down already.)
I bought my ticket with the suspicion that this wouldn't be the best thing ever - nothing will ever top
Misterman
* - but the hilarious surreality of seeing that cast together was enough to meet (and slightly exceed) my low, low expectations.
*Yes, I'm going to see
Coriolanus
at the Donmar. Yes, I don't expect it to be as good as
Misterman
, for all my affection for Mark Gatiss and Tom Hiddleston.
This entry was originally posted at http://charloween.dreamwidth.org/445280.html, where there are

comments.
It's possible
Richard II
with David Tennant, so our cinema sure sold out.
I'm happy to report that Tennant was only occasionally obnoxious, that it's still a great play, and that Henry's supporters were all paunchy burly bearded types, while Richard's were skinny effete types. *thumbs up* Expectations met. Also,
the wig
worked alright, though none of the other men had long hair so it still stuck out.
What I didn't expect was that after Henry traps Richard in whatsit castle, Richard makes out with York's son. In the middle of that 'Holy shit, I'm about to be deposed: what now?' speech it went from
Important Questions
to
Make Out With Minion
.
I'm not wholly on board with that decision,
(
...more
Collapse
)
I still like the
Hollow Crown
version of the play much more, but OTOH it's unfair to compare performances on stage and screen. Plus, my deep affection for the cast of the
Hollow Crown
(Ben Whishaw! Rory Kinnear! David Morrissey! Patrick Stewart! ...and that's just in
Richard II
) presently overrides my critical sensibilities.
ETA
: I did like the way Tennant played the part of the scene he points out that now that all of Richard's titles and names have been taken from him, he's having a hard time even knowing what to call himself.
This entry was originally posted at http://charloween.dreamwidth.org/444980.html, where there are
comments.
The RSC has jumped on the National Theatre bandwagon and offered its first live theatre broadcast last night. It was
I HAVE A FULL DRAFT, MORE* OR LESS**, OF ACTUALLY-WRITTEN WORK.
*in word count
**Conclusion TBA, but whatevs.
OMFG IT'S A PHD THESIS.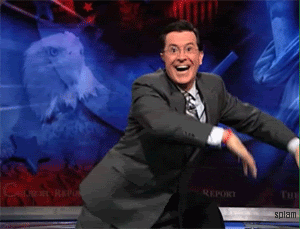 (Next step: start from the beginning, read and re-write everything. WOO!)
This entry was originally posted at http://charloween.dreamwidth.org/444763.html, where there are
comments.
SHORTEST AND BEST SUPERVISION EVER.
Current Mood:

NO EMOTICON CAN DESCRIBE THIS
Slings & Arrows
! By the top of 1.04 she was giggling at Darren Nichols, so... *cape flourish* My work here is done.
- got some creaky version of the lit review to my supervisor on Friday, and we're meeting about it tomorrow. Today I'm having far too much fun (like, actual
satisfaction
) tidying up the Word doc with my bibliography. I've done pretty well in keeping notes: I've only got to check publication info in two books. And then, go through everything once more to be super-pedantic and get the original publication info for anything reprinted in a later anthology. Yesss
sss
.
- technically I've only done about half of my lit review: I've got to cover Television Studies next. Most/some/bits of that does exist in some form. Somewhere.
- OH AND speaking of referencing (YOU KNOW YOU'RE INTO IT! YEAH!) another thing I want to do before the term is over: go through every book on my shelf and make sure I've worked a bit of each into my thesis. Else, why did I buy the books? (I feel like my thesis is 50% scholarship and 50% things I find hilarious that no one else understands.)
ETA
: and at 4:15pm my supervisor texts to say she's left feedback in my pigeonhole. I
was
going to finish these last few citations, and then look through my notes to make a list of things I should work into chapters. But now I'm going to write a few citations while slightly nervous about the feedback, and then spend however longer at my desk to go through said notes. AAAAAAAAaaaaaaaaaaaa nooooo. At least I was already on campus, though.
ETA 2
: I'm happy I spent the day on the bibliography file. There were a few gaps that would've completely spun me out if I'd been doing this in a few months. As it is, I'll finish going through the feedback, head to the library and raid the stacks, and scan-to-email the front matter I need.
This entry was originally posted at http://charloween.dreamwidth.org/444576.html, where there are
comments.
- got another person to watch
Still alive, still fighting with my lit review.
Bought a new phone (i.e. someone's used phone) on eBay: it arrived on Friday, and I spent too much of the weekend playing the 'install all the apps, customize the device!' game. Also, it's not my lit review.
Fireworks were nice: current pop songs with vague colour/light/sky themes, timed to pretty pretty explosions. One of the friends I went with said she was 'so glad someone tried to blow up Parliament'. Traditions are weird, but sometimes they result in a giant bonfire and a fireworks display against the backdrop of a ruined castle. (Also... not my lit review.)
Ugh, gonna listen to another Night Vale then go home. I'm not productive.
This entry was originally posted at http://charloween.dreamwidth.org/444273.html, where there are
comments.
*twirls in chair*
Current Music:

Cecil being pulled into a closet by a vacuum... <3 Night Vale
so boring
), which means less time near the internet.
I spent a fair amount of time in October trying to buy a second-hand smartphone on eBay, and today I succeeded after a few mishaps. (Third time lucky! First time no phone was delivered, second time I got some bizarre fake version.) If I was valuing my time rationally, I'd be better off if I'd just bought one new. But this way, I saved £110 off what I'd've paid at Carphone Warehouse or similar. Now just to wait for eBay to help me get back the £140 I spent on the fraud!phone. (I am the queen of rational action and good decisions.)
Tomorrow there are fireworks (because the 5th is a Tuesday and not firework-friendly). Yesterday we film PhDs continued our tradition of watching excellent horror films on a big screen in the department (this year:
Changeling
and
Demons
). Today there was a kids' show about dinosaurs with a 15ft tall T Rex puppet roaring at tiny terrified children. Speaking of dinosaurs LOL j/k, Slade and Sweet on a double bill later this evening. (Which is where I'm heading now!)
This entry was originally posted at http://charloween.dreamwidth.org/443906.html, where there are

comments.
Not much happening around these parts: working too much in Distraction Job and not enough in Actual Job (though my lit review is
Science Fiction Audiences
(Tulloch and Jenkins 1995: 198-9):
Both Chapel and Uhura were essentially after-thoughts in the series' development; neither appears in the two programme pilots nor are they referenced in the early Writer's Guides. When descriptions of female characters did appear, the Writer's Gudie prose often exaggerated their femininity and put particular emphasis upon their sexuality, as when Rand is characterized as having 'a strip-queen figure even a uniform can't hide'.

The women of Star Trek are represented as either being too emotionally and sexually volatile to perform their duties adequately or as having totally repressed all emotions and much of their 'femininity' in order to function within a male-centred workplace. One extreme version of the series' apparent anxiety about female ambition is 'Turnabout Intruder', an episode based on a Gene Roddenberry scenario, centring around Janice Lester, a woman whose ambitions to be a Star Fleet captain have been frustrated and who has thus developed a 'hatred of her own womanhood', while Kirk suggests that 'Her life could have been as rich as any woman's' if she had learned to accept her lot. An obsessed Lester find the means to take possession of Kirk's body, while Kirk, trapped inside a woman's body, must somehow regain his command.

The show's use of recurrent secondary female characters, such as Chapel, Uhura or Rand, was a breakthrough for its period, yet these characters serve in traditional feminine roles as the space age equivalent of nurses, telephone operators and secretaries. Women in individual episodes were sometimes portrayed in more professional roles, but more often than not their narrative function was reduced to to that of a love object for one of the male leads, and they are often portrayed as either psychologically unstable or as possessing dubious loyalty.

(In other news, I'm approaching my limit for reading Jenkins. Weeding through the self-congratulatory bits to get to the good stuff* is tiring. *seems that the good stuff is 98% the co-authored stuff.)
This entry was originally posted at http://charloween.dreamwidth.org/443856.html, where there are
comments.
From
Current music
: Siouxsie and the Banshees, "
Dear Prudence
". Hooray Beatles covers!
Current task
: Fandom studies review of literature.
Current level of interest in current task
: Hey, someone left saltwater taffy to share in the PG workspace! Neat!
Current idle thought
: It's been thirteen months since my last hair cut. Maybe I should get a trim?
*spins in chair*
My office-mate just turned up, reporting that it's raining and nasty out. I guess I'll stay here for a bit longer and work!
*spins in chair more*
And by work I mean actually work, not think about knitting
this cardigan
.
This entry was originally posted at http://charloween.dreamwidth.org/443602.html, where there are
comments.
(
But I do have tips and stuff.
Collapse
)
This entry was originally posted at http://charloween.dreamwidth.org/443138.html, where there are
comments.
Upper-year students continually get asked to share those 'what I wish I knew before I started' gems of wisdom. (This is the third time I'm an upper-year student in a degree programme; presumably eventually I'll 'mentor' someone, but not yet.)